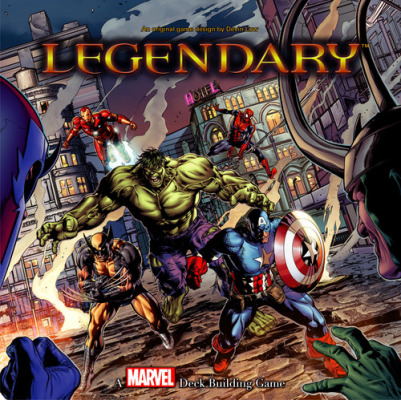 Marvel Legendary Review by Eric Mang
Superheroes are awesome. I may not be in the majority (click here to see the stats), but Marvel superheroes are more awesome in my eyes. Oh Dark Knight, you'll always have a place in my heart, but Spidey's my guy.
My first Marvel game was the RPG from the 1980s. I was about 12 when I got it and it was a perplexing maze of rules. Matters were made worse when none of my friends were interested in playing. So much dust it gathered.But then Upper Deck (not a go-to games company for me. I associate them with high-end baseball cards that made my O-Pee-Chee hockey cards look o-pee-cheap) released Marvel Legendary.
They had me at Marvel. They earned my devotion by making it a dependable solo game and a fun co-op.
The rules aren't particularly complex. If you've played Ascension, you're set.
In short, you draft heroes into your deck, use heroes to beat on bad guys and stop them from flooding the city, and ultimately take down the super bad guy not once, not twice, but four times. No one stays dead in comics anyway. Occasionally, a Mastermind card is drawn and the Big Bad Boss drops in on the good guys. Sometimes bystanders get captured and you have to exercise great responsibility and try to rescue them.
Hassling your efforts and adding a rich dimension of story to the game is the scheme twist. When scheme twist cards are revealed from the villain deck, terrible things happen. Heroes can be captured, heroes can be knocked out, Howard the Duck returns to the Marvel U…kidding about that last one. Or am I? This game has pumped out a few expansions.
I love the variety of characters. Spider-Man, Thor, Deadpool, Storm, Rogue, Cable, Moon Knight and so on.
The abilities of the cards, heroes and villains, feel appropriate to the characters. Nightcrawler, for example, has a teleport activity that let's you set him aside from your hand and scoop him up in your next hand. Bamf!
The villains range from easy – Red Skull is a wuss (but I'll bet Red Onslaught would take you down) – to silly hard like Galactus. You ain't taking an eater of worlds down with the Scarlet Spider, Bishop, the Punisher and some wisecracks.
Dark City is a punishing expansion that demands players strategize together. If you don't, your chances of laying the hurt on Mr Sinister (who'll just re-gen anyways) get slim.
There's an element of chance as the hand you draw from your own deck is randomized, 'cause you shuffled, right?
But who you recruit and how you use them feels like it matters.
You can also get carried away recruiting heroes because so much awesomeness is to be had. Professor X can gain a defeated villain and turn him into a hero with the villain's attack value? I need that. But you're left checking out trees and not seeing the forest of baddies spawning all over poor, benighted quasi-New York.
My wife is my best friend and she'll play most games with me (including this one) but I'll admit my love of Marvel heroes is lost on her, so I wanted a solid solo game. Marvel Legendary works as well solo as group co-op. However, I would caution no more than three players. More than three players crowded around the board feels, well, crowded.
Bottom line: it's plain fun. But if you're a Marvel fan, it's a "get yourself lost in the game" game.
Marvel Legendary fans have created all sorts of scenarios and combos that might be worth checking out. I'm still loving the game as is and haven't gone down the rabbit hole, but there's a pile of variety out there.
The drawbacks for me aren't so much about game play but about aesthetics.
In the core game, hero cards used the same artwork… boooring. Marvel has created and curated so much great art over the years. Use it! Upper Deck heard this for the Dark City release and there is different art for each type of hero card.
As the father of a young girl who also plays this game, I'd like to see no objectification of women. The boobs are disproportionately hilarious but do very little for female self-esteem and male perspectives on the female body. Marvel has some of the strongest female superheroes around made even better by writers such as Kelly Sue DeConnick and Kathryn Immonen. The overdone bods aren't necessary.
All in, a game worth getting; more so if you make yours Marvel.