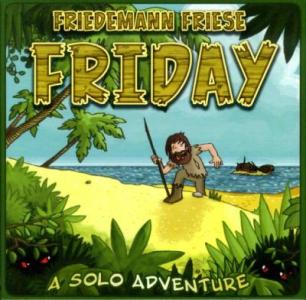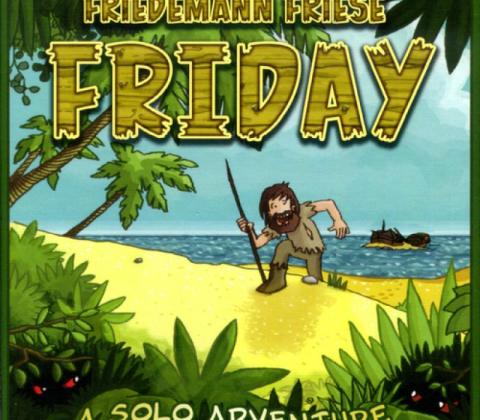 Friday Review – a bare necessities solo experience
Friday is a super-portable uniquely solo-only card game with deck building mechanics. It describes the titular character's efforts to teach Robinson Crusoe the necessary skills to get off the deserted island. Quick, tactical and challenging, it offers a good way to pass 20 minutes, but offers limited replayability.

You take the role of the local helping the shipwrecked Crusoe. Apparently you don't like having him around and the best way to get rid of him is to help him get back home. In order to do that Robinson will have to learn how to shake off his weaknesses and effects of aging and to become smart, determined and brave. With the help of items he scavenges he will be able to overcome pirates (who in a surprise twist are the main obstacle to getting out) and return home.

The game features deckbuilding prominently – you start with a fairly weak deck representing the freshly shipwrecked Crusoe – weak, hungry and distraught, though with some potential for focus and smarts. You go through a series of encounters that allow you to use your existing cards to face the hazards of the island – wild beasts, cannibals, expeditions to the ship wreck. Each encounter allows you to either gain a new card for your deck or to get rid of unwanted cards by losing life. Life is represented by chunky wooden tokens and is a limited resource.
The goal is to improve your deck by adding strong cards to it and getting rid of your weaknesses. Time is against you though as every so often Crusoe will get older, adding penalty Aging cards to your pool. Once you go through the encounters on the island three times in phases of increasing difficulty, you fight the final bosses of the game – two pirate ships – it is an ultimate test for how well your deck is constructed. If you survive both battles you are victorious.

The tactical decisions in Friday are meaningful and are mostly about how risky do you want to get with your life supply. Riskier plays will see you sacrifice it early to get a strong deck sooner while more cautious players might prefer keeping Robinson safer, if weaker.Luck of the draw plays a small role in the game so fans of planning will be pleased. Selecting which hazards to face is another interesting choice and is based on what you know about your deck's current state.

Many cards have additional special effects that run the gamut from being very clear to somewhat confusing and these will have you checking the rulebook (of medium helpfulness) frequently.

While there is some theme to be found (e.g. searching a shipwreck gives you "Equipment" card that allows you to bring more cards into play for free) – it quickly gets lost in the brisk pace of the game. The theme does not feel pasted on but never emerges as a significant contributor to the enjoyment.
The game can get a lot like a card solitaire in that often there is a clear best thing to do and you are just going through the motions. Once you know what the deck can offer it is not particularly difficult to plan accordingly. Bad luck or aging cards can still sink you but at that point it's out of your control. Because of this obviousness, Friday will become trivial quickly if you play it a lot.

The best use for it therefore is as filler or a game for solo travel – do not expect it to carry your game nights. And even with that approach use it sparingly or it will overstay its' welcome at your table – several repeated plays are not suggested (which can be hard to avoid given the brisk 20 min play time)

It should be mentioned that the art of the game is rudimentary at best – if production values play a big role – this will detract from your experience as artwork is decidedly basic.


While not without its' flaws, Friday is an attractive package – it's quick, easy to pick up, proud of it solitaire status and offers some tactics, fast pace and a reasonable challenge. If the basic art doesn't bother you and you don't play too much of it too soon it can become a solid minor addiction to your collection and a trusty travel companion. Which would be only fitting, given the name.
Friday also carries the honour of kicking off our Board Game Habitat Photo Project thank to it's evocative theme!