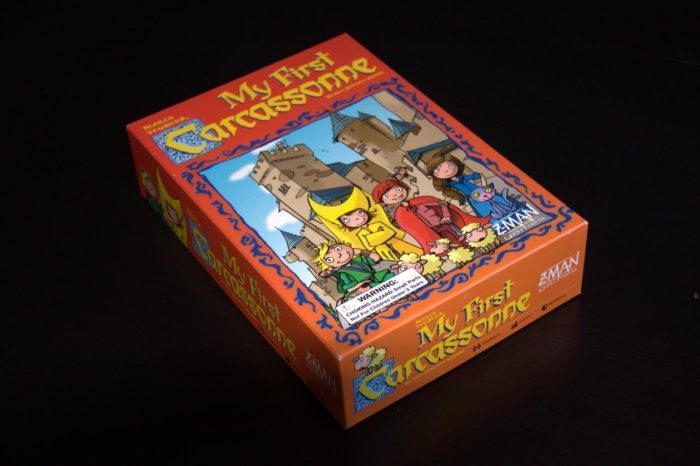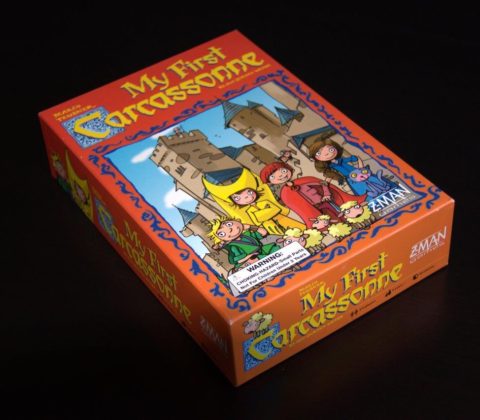 My First Carcassonne – big meeples for little gamers
"Roads go ever on and on" – Bilbo Baggins
As the board games hobby becomes increasingly popular, the demand for games that are accommodate the youngest audience grows. It is no surprise that a modern classic like Carcassonne would be among the first to receive this treatment. How does this simplified version stack up against its cherished predecessor? Let's chase after that chicken for a while!
How it works:
My First Carcassonne (previously known as Kids of Carcassonne) is intended for players as young as 4. It uses large, chunky tiles that only have one element on it – roads. Some tiles have termination points on them – a road going into a building or towards a courtyard. When a road "terminates" at both ends it is considered to be finished. Most road segments will have a little kid figure on them, belonging to one of the four players' colours. When a road is finished – players may put one of their seven large chunky meeples on that tile. Whoever gets rid of all their meeples first is the winner.
The components are nice and big and unlikely to be misplaced by mischievous younglings. The tiles are chunky and don't slide around easily as kids try  shuffle them around trying to find best placement. It is a robustly crafted game that caters to its audience. The art, cartoony in style, is somewhat busy and far from the quaint greens of the base Carcassonne, but the bright colours and the fun scenarios of kids chasing after goats and chickens adds to the game.
How it plays:
The game accommodates 2-4 players with an expected age of 4. My son started playing it when he was three and had a great time with it. Because the only element on the tiles are roads – all tiles are compatible and there is no "wrong" way to put a tile, minimizing frustration. The rules are also simple to grasp, though developing an effective approach might take the smallest kids some time as they grasp it. Great thing is that the process of figuring it out (hopefully with some gentle adult guidance) is not frustrating as it's a good engaging time regardless of whether the kid is winning (clearly, mileage will vary depending on kids' temperament).
The decisions are bite-sized and because there are no wrong ways to play a card – the wait time is easy. The game goes 10-20 minutes and adult supervision are required only if players are 3-4, with older kids able to play by themselves.
Will my kid like it? Will I?
We had a great time with My First Carcassonne and it is one of the staples in our collection. It is not a particularly engaging game for adults but the fun of playing together more than compensates for it. The games can drag a bit, especially with more players, resulting in loss of patience for younger kids. If you know that the attention span is a concern – I suggest playing with a few less meeples to start. I can't say how well the game plays with older kids but I imagine it would be too simple for them to enjoy (though "supervising" a group of younger kids might be a fun responsibility!).
The game teaches spatial reasoning, with deciding how to place a tile so that it connects to roads where your existing figures are or so that the game is closed. Some minor math is involved as you count number of figures of each colour on a closed road or a number of remaining meeples.
Conclusion:
My First Carcassonne is a really simple game that teaches key core concepts of taking turns, winning and losing. It also provides necessary life lesson of what a meeple is. While it won't blow your or your kid's mind – it is an approachable stepping stone to get your kid comfortable with games as an activity, paving the way for the more advanced fare in the future.