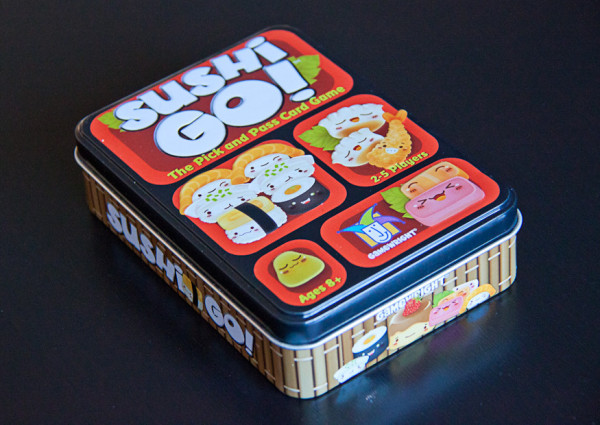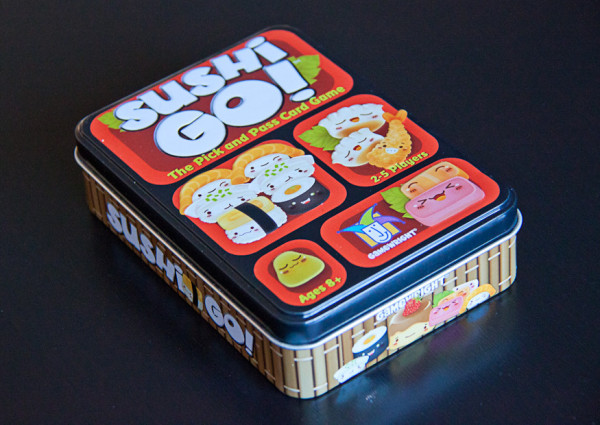 Sushi Go review: a treat of a game
Sometimes less is more. And I'm not just talking bout size, as there were enough good things said about Tiny Epic series. The unassuming Sushi Go! from Gamewright spots a minimalistic game design with cute theme and adorable art. Packaged in a neat tin box, it delivers tons of fun in fast-paced, easy to pick up game with a winning charm and universal appeal.
How it works:
Three to five players are competing in assembling the most formidable collection of adorably rendered sushi on their plates. The game consists of three rounds –  each round the player starts with a certain amount of cards in their hands. On their turn, each player puts down one of the cards from their hands and passes the rest of the cards to the player on their left (a mechanic most will be familiar from 7 Wonders).
The cards score points – there are eight types and each has its' own unique scoring mechanic. Sashimi for example will score you ten points but only if you play three of these during a round. Dumplings on another hand give you points that grow the more of these you play in a round. Not all cards are scored at the same time – for example all pudding played is left for dessert (of course!) and points it provides are calculated at the end of the game. Finally, chopsticks don't provide any points on their own, but rather allow you to play two cards on a future turn instead of just one.
After a round is done (all cards were played), the scores of all players are counted up and recorded (unfortunately no scoring pad is provided with the game). After the third round the results are tallied, the dessert result is applied and whoever finishes with the most points is the winner.
How it plays:
The game rules are extremely simple and you can explain these without difficulty even to novice players. The different scoring mechanisms are conveniently illustrated on each card, serving as a useful reference.
The games themselves go very quick, especially after the first round. You are basically trying to maximize the amount of points you are going to score by picking which combinations of sushi you are going to go for – are you going to try to go for the high-scoring sashimi cards and take the risk that someone else is going to prevent you from collecting a set of three? Or play it safe with the trusty low-scoring unfortunately named nigiri for guaranteed points?
There is certainly very few opportunities for analysis paralysis and this simplicity serves the game very well, keeping the game moving gingerly. The competition aspect of the game is very indirect, mostly limited to maximizing your own score, while occasionally playing cards to prevent opponents from getting something they really want.
The game works equally well with three to five players, without much of a difference in game dynamic. There is a two-player option introducing a dummy player that provides an adequate substitute, but is not as fun as playing it with the intended group sizes. While the official number of players caps at five, it is conceivable to play with six, adjusting the number of cards dealt each round. It will be less balanced but in all honesty precise balance is not the reason you should be playing Sushi Go!
The game certainly does not overstay its' welcome, wrapping up in a tight 15 minutes, placing it squarely in the light filler category.
How it feels:
In a word – great. The art on the cards is absolutely impossible to resist and immediately sets a positive tone for the game. You try feeling negative when there are little adorable tempura smiling at you from the card! The light mood of the game combined with the excellent art direction really hit the spot in making sure that Sushi Go! is a highly enjoyable experience – you might not be giving your brain the workout it gets during Terra Mystica, but you are definitely having fun.
The gameplay itself is also brisk. The fact that each round will contain a different set of cards due to completely random shuffling creates many unexpected scenarios to adopt to. Now sometimes it ends up feeling not fair, for example if you really need that third sashimi but there is simply no more in this round. Or you get a hand full of maki rolls that you can't do much with. But the round is over so quickly that you are never left to dwell on these.
There is a good balance of figuring out how to score most points for yourself and watching for what others are trying to do in order to foil their plans. Expert players might try keeping track of the cards in all the hands as you see them through a few turns to devise the most efficient strategies. It is definitely a very light game though, dependent  on the luck of the draw, so those craving s heavy euro will be getting a raw deal.
In Conclusion:
Sushi Go! sets a very modest goals for itself and absolutely aces these. It is a very affordable (under $15), kid-friendly game that feels fun and goes quickly. For a game about scoring points it manages to not devolve into a math exercise and it also introduces players to the card drafting mechanic used in more complex games (hello again, 7 Wonders). I would absolutely recommend you add this game to your collection – this likable filler will work well both as a break for experienced players and a starting point for new ones. I have to warn you though – by the end of three rounds you will be craving a delicious sushi roll!