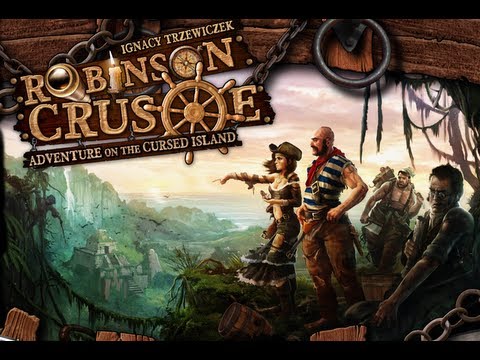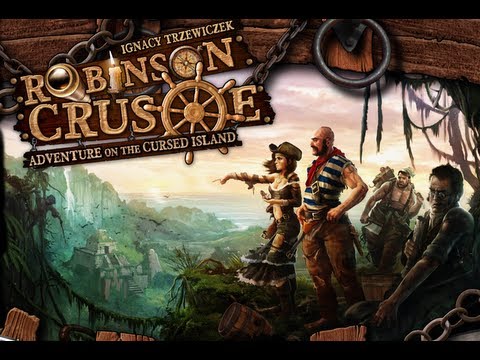 Three reasons I have a man crush on Ignacy Trzewiczek
I have to admit – as a game designer and aspiring publisher – that I have a man-crush. The object of my admiration is Ignacy Trzewiczek and at this point I can almost spell out his last name without Google. Ignacy is behind such hit board games as Robinson Crusoe and Imperial Settlers and runs Portal Games from Poland. And today, being a good date because it is his birthday, I will tell you three good reasons why I feel this way.
Reason 1 – Board games that tell stories
I used to love reading. I would read 15 to 20 books a year and eagerly await my next one. Since my job got serious and I became a father – I find it more and more difficult to crack open a book to enjoy. There is just no time or the energy isn't there or maybe it's the fact that David Copperfield that I started and can't finish just feels like such an endless book. When I bought Ignacy's e-book that compiles his experiences in game design and publishing – I swallowed it in three days. I have never read his blog posts before. I have never played Neuroshima Hex or 51st State. I just loved the way he was talking about games and how hard and rewarding it is to make them. And stories about how his wife crushes him all the time and the Die Hard references. It made me feel like I'm listening to a live person talk – a fun, smart and interesting person. I should also note that Ignacy makes himself awesomely available to gamers on Twitter – he is one of the most interactive designers out there.
The stories from other famous designers in the final third of the book were also very nice. If you are looking for a quick fun read – get this book. It made me excited for the next book I'm going to read although I have no idea what it will be.
Reason 2 – Robinson Crusoe
I used to dislike cooperative games. Castle Panic, Forbidden Island, and Pandemic – these seemed very easy and did not offer the same challenge as playing against a crafty opponent. I disliked them enough to write this fiery post about inherent superiority of competitive games. And then I played Crusoe – a game Ignacy designed. First I was drawn in by how damned hard it was. I played and I lost: Again and again. When I got my first win at 5th attempt I knew that this was something special.
And it wasn't the difficulty. It is the game's ability to tell a story – that same mantra that Ignacy likes to repeat. To this day I don't know a game that has mechanics that better represent what the game models. Every single thing that happens to you in the game just fits so right thematically – the suffering it inflicts, the surprise you feel at your every success. The desperation, the hope and the triumph of finally beating a scenario.  It is a great game and I highly suggest it to anyone looking for either a challenge or an adventure.
The reason why it stands out for me however is a special one and goes back to childhood. Back when I was growing up in the 80s in Soviet Union – I did not have exposure to any of the fantasy or sci fi that we enjoy now. My adventures were lived in African jungle, mysterious islands and turbulent seas – all of these coming alive in books. Books by Jules Verne, Robert Stevenson, Jack London and Louis Boussenard (note that to this day I have not read the actual Crusoe by Daniel Defoe). These old books with their richly textured covers and etching-style illustrations mean my childhood to me and the awe at the adventure out there. I think, growing up in Poland around the same time Ignacy might have had the same kinds of books. When I play Robinson Crusoe – I remember my childhood and these books. It is good memories. And for these memories I am sincerely thankful to Ignacy and his devious game.
Reason 3 – Showing that it is possible
I think the biggest reason why I admire Ignacy comes down to the fact that reading about him and his journey I have seen many parallels to my own life. I am about 30 cm shorter than him and have zero published games to my name, but let's drop these trivial differences for now. Half of my life ago I also was a very geeky teenager who dreamed of the worlds created by Tolkien, Lewis, Le Guin etc.  I also loved The Witcher series. I spent inordinate amount of time drawing awesome swords in my university notes as opposed to learning linear algebra.
I was sure that nothing could be made of it. The idea of actually making money on anything RPG-related (forget board games, at that point even my introduction to Catan was a good 7 years away) was a pipe dream. Something I knew that I would have loved but something I did not have nearly enough courage to pursue. Ignacy had the courage. The fact that Crusoe is a #2 ranked thematic game on BGG and the new Imperial Settlers are in top 10 of "The Hotness" should be a good indicator that he had a good reason to have the courage. He made it (and if you read his book you find out just how hard it was and is).
So from my much younger and stupider and less confident self – I am so grateful to Ignacy for showing both me and everyone else out there that it is possible and you should have courage to pursue your dreams.
So there, you have it. The three reasons for my man-crush and I expect that the list will keep growing. After all I still need to try Imperial Settlers. And you know what? I know I'll love it. Why? Because it reminds me of Setters 2: Veni Vidi Vici, which had its' own special place in my gaming history. How can I be sure that the game will meet my high expectations without even giving it a shot? For the reasons above – if Ignacy made it – I just do.