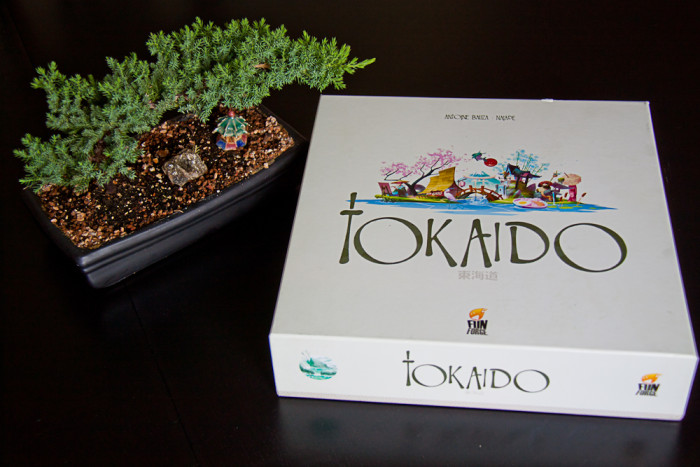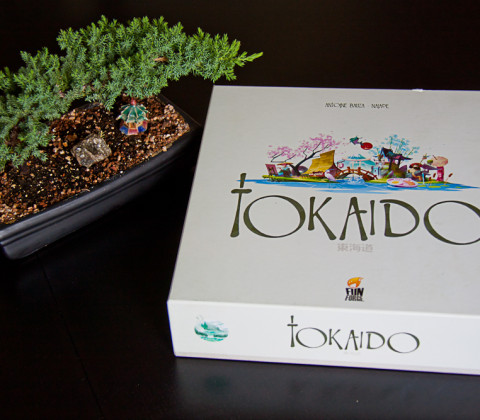 Tokaido review: the joy of the journey
What was the last time you went on vacation? How do you judge how successful it was? The souvenirs you've collected? The sights you've seen the people you've met? In Tokaido – a tranquil, drop-dead gorgeous board game from Antoine Bauza and Fun Forge – all of these things matter. But the most important thing – both in this amazing game and in any real vacation you take – is the experience itself. Just how much joy did you get out of your time? Let's hope your vacations approach the amount of sheer positivity this game imparts on players! Put on your geta and your best kimono, we're going on vacation in Japan!
How it works:
Two to five players take the roles of travelers in feudal Japan, undertaking the journey from Edo to Kyoto. The journey is represented by a horizontal map of the trail with all the points of interest marked on it. Stopping on these points offers the opportunity to enrich the traveler's journey – by relaxing in a hit spring, buying souvenirs, meeting the locals or stopping to paint the gorgeous views. Each of the several available activities offers its own mechanism of scoring points, representing the overall "worth" of the journey you've made. Some (like painting) are free and some (like donating to a temple) require money – the game's only resource. Points add up on a score track running along the path on the game board.
The movement between points is extremely simple – the player who is the farthest behind always gets to go. That means you are always figuring out a balance between getting more actions and making sure you get to use the stops that offer the things you really need.
Once the trek is complete and all the players arrive at the destination, points are tallied up with a few achievement cards going to leaders in certain categories. As tradition dictates – the player with the most victory points is declared victorious.
How it plays:
A few words should be said about the visual presentation of Tokaido. It narrowly beats out Concept for the "board game most likely to have been designed by Apple" award. By that I meant that the design is airy and spacious with lots of white space and beautiful iconography. There is no in-game text and it is quite easy to pick up and understand. The beautiful visuals set the tranquil tone of the game from the get go and that only gets further emphasized once the game starts.
The decisions that the game offers are very simple but meaningful and the game never feels sluggish even with five. While it works very well with three to five, the two-player option (that adds a third neutral pawn that is used as a blocker of desired locations by both contestants) feels ever so slightly awkward. The games are quick mostly wrapping up close to the advertised 45 min play time. Experienced players playing lower-player count games will easily be able to fit a game in a half-hour slot.
The gameplay itself always feel easy and streamlined – a feat that combined with the gorgeous aesthetics makes Tokaido likely to be a frequent visitor at your table.
How it feels:
Tokaido aims for a very specific kind of gameplay – a purely positive one. There is not a single effect in the game that can result in a negative consequence for a player. It's all about maximizing your score by visiting locations most advantageous to the strategy you have selected. This is a kind of a staple for Bauza games and a very enjoyable one. In my experience I have never seen anyone be frustrated by a game of Tokaido no matter how poorly they did (full disclosure – the person who does poorly is usually me).
While the decisions ultimately hinge on numbers and probability – the game never feels like a math puzzle thanks to strong theme integration. Instead it is quite fun to judge whether it makes more sense for you to go ahead and visit a spot you really need even if it means that others will get to take more turns because of it.
The game can feel quite light on decision-making. It's a great thing for newer players and those looking for an experience that falls decidedly on the light end of game complexity. For veterans looking for chunkier gameplay filled with multi-turn strategies, lots of player interaction or complex engine building – Tokaido will likely feel overly simple. It would still work as a great in-between option for game nights thanks to its brief duration and breezy setup and teardown.
Ultimately – Tokaido ends up being a really enjoyable game. What it lacks in complexity it more than makes up for in the completeness of its presentation. The lack of player interaction is not noticeable when you are enjoying yourself this much. Even the static nature of the game is not an obstacle to replayability – using different characters, each with their unique abilities and playing against different people, adjusting to their strategies, makes the game surprisingly robust on repeat plays.
Conclusion:
With his ability to reliably produce games that are likable and approachable yet smart and engaging – Antoine Bauza is basically The Beatles of board game design. Tokaido is an excellent addition to his repertoire, showcasing his love for the culture and history of Japan and putting his sublime design skills on display. It is a great achievement – a game so light, inviting and universally appealing that it is highly unlikely to gather any dust on your gaming shelf. This journey comes highly recommended.