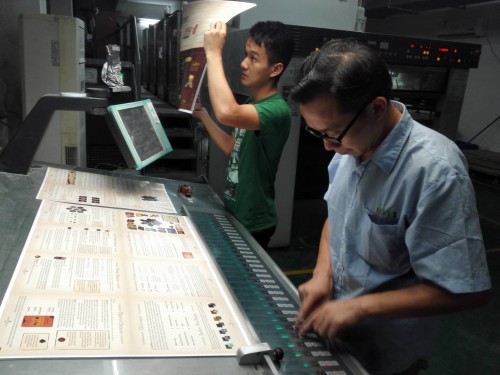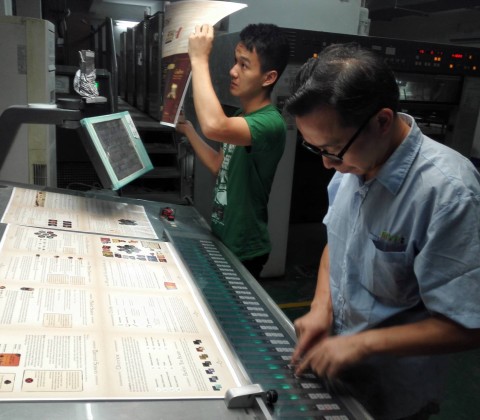 Manufacturer Testimony – BangWee Industry Ltd.
The purpose of this post is to share my experience working with BangWee Industry Ltd., a company in China that manufactured Cauldron. Manufacturer selection is a very important step and I hope that this information will be useful to other board game creators in their search for partners.
The information in this post is based on the Kickstarter campaign for Cauldron: a board game of competitive alchemy. The campaign was live during May of 2015 and raised $32,167 out of the $14,000 goal. Following the campaign I worked with BangWee Industry Ltd. to produce 1,500 copies of Cauldron and then sent these around the world to backers as well as stores.
Initial Contact
My work with BangWee started in a curious way. In preparation for my Kickstarter I approached several manufacturers, including Panda GM, WinGo and Magicraft. Panda was clearly too high-caliber for me, WinGo's prices were a bit high so I settled on Magicraft and was in contact with them leading into April of 2015. Then suddenly, the responses just stopped. I could no longer get a hold of a rep and even the company's website stopped functioning (it has since been revived). Needless to say this ruled out me working with that particular company and sent me into a frenzied search for a replacement.
At the same time Bing Wu, the head of BangWee Ltd. contacted me, based on my promotion of the upcoming Kickstarter on social media. I figured an extra quote would not hurt and the numbers he provided were very good. Moreover, their minimum quantity was a very achievable 500. The company seemed very new so I needed to do some background checks as well. I contacted the creator of another game they manufactured, Warband and he had only good things to say. Also, by this point I got a feeling for Bing's communication skills and timing, both of which added confidence.
With all my research coming back positive and the Kickstarter fast approaching, I made the decision to work with BangWee Ltd. to manufacture Cauldron.
Communications
I am not certain if Bing ever sleeps. Despite the time difference I got a response to my e-mails within 3-4 hours most of the time – including weekends. Not all information I was looking for would be available right away of course, but the acknowledgement of a question and a timeline for response were provided reliably and consistently. To be perfectly honest I felt that I caused more communications delays than Bing did in our correspondence. This was an enormous advantage in my work with BangWee as we stayed in frequent communication throughout the project and up until we both agreed that all the work has been fulfilled.
Bing's English skills were very good and at no point did I ever feel that the language posed any obstacle to getting the work done.
While the Kickstarter was live, Bing also supported the campaign via his Facebook and Twitter channels, which was very much appreciated.
The instructions that were provided were always followed closely and attentively. There were only minor revisions I had to make after I received the pre-production prototype.
Pricing
The price for a run of 1,000 copies of the game was 12% lower than what WinGo offered and 24% lower than Panda's quote. Their minimum print run was 500 and Bing was excellent at providing prices for incremental print runs. All the prices were provided in US dollars and payments were accepted via both wire transfers (which made sense for bigger payments) or PayPal (which made sense for smaller payments that had to happen quickly). A deposit of 40% was required to start the work and the remaining 60% was due on completion of the project.
The pricing of stretch goals (improved card stock, cardboard thickness, extra components) was provided within 1-3 days and took into account economies of scale (cheaper as print run increased).
There was no hidden costs in the manufacturing process – every cent I paid was discussed and confirmed in advance.
Quality of work
I had significant concerns about this. I understood well that going with a newer, eager to please manufacturer I would get lower rates and good customer service, but the quality of their work remained a mystery. What limited samples I've seen were good, but up until I got a pre-production copy I was uncertain about this one. Every expectation I had was surpassed in this regard. The cards were solid, the cardboard chunky, the colours vibrant. Punchboard was cut very well. But instead of my own impressions – why don't I share what my backers had to say (all comments taken from the Kickstarter comments page)
"The quality is outstanding."
"The chit quality is one of the best I've ever seen (and I've got over 400 titles in my collection)"
"The thing that I noticed and jumped out at me was the quality of the game. BangWee has done a great job. Other KS board games should consider them. Dare I say BangWee has made Cauldron to a level that could give Panda and GrandPrix a run for their money."
"I've received my game and I'm so happy! The components are beautiful and the artwork is great."
"I just got my copy in today. I'm blown away by the component quality and the artwork. "
"Looks fan-freaking-tastic! "
"The component quality is amazing, especially for a game with such a low price."
There were minor defects on card printing reported in 0.2% of the print run. This was beyond acceptable. I was very happy with the work done.
Customer Service
I felt as a customer that every concern that I had was addressed in a timely and professional manner and every question I had answered to my satisfaction. Bing always went one step further – not only providing information I requested but also suggesting alternatives to consider. There were many instances where Bing went above and beyond my expectations:
Bing fully arranged the freight from his factory to the distribution centres in US, Canada and China, including phone contact with the Chinese warehouse. I was able to deal with all of my freight through Bing, including importing and that simplified the process a great deal. Bing kept me up to date on the progress of the freight shipments up until these arrived at their points of destination.
Bing provided step by step photos of the manufacturing process and even made a video.
Most of all – at all times I felt like my interests and priorities were respected. That to me is the key to good customer service and BangWee Industry Ltd. aced that part.
Summary
Based on my experience with Cauldron – BangWee Industry Ltd. is an outstanding manufacturer of board games. Their responses are lightning-fast, their customer service is exceptional, the quality of their work is top-notch and their prices are fair and affordable. I am sincerely grateful to them for the outstanding work they've done to make Cauldron such a great looking game. Without a single doubt they will be my manufacturer of choice for my next project. I can only offer a full endorsement of their services and recommend them to anyone looking to manufacture a high-quality board game.